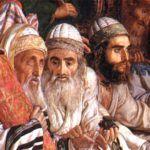 Could you explain the difference between Jewish Hermeneutics and Christian Hermeneutics?
Download the PDF Workbook for this series
In Session 2 of "Study to Show Yourself Approved,  I  compare and contrast Jewish Hermeneutics with Christian Hermeneutics.  I also explain the traditional approach to study from a Hebrew perspective by looking at the art of debate, logic, and reason.  I continue this program by identifying the most important rules for evaluating Scripture passages. Finally, I  examine the most important aspects of research, application, and presentation. This session will help equip you with those skills necessary for serious study.
Part 1
Part 1 - Audio